Playground Safety Is No Accident - 4th Edition
Playground Safety Is No Accident, 4th Edition, published IPSI, LLC 2008
Today's playground safety needs are becoming more complex and inspectors need more information and tools to do a more effective and efficient job. Over the years we have addressed specific needs as identified by many CPSI's. This version includes many of your suggestions. The new content includes personal stories from CPSI's explaining how they utilized this book to develop and implement their agency playground safety inspection and maintenance program. Since the last revision of the book there have been several ASTMF1487 revisions and a major revision to the CPSC Handbook that required a complete review and rewrite. One of the most important and comprehensive changes will be found in the playground safety compliance audit process. With the assistance of a fellow CPSI Course Instructor, Steve Plumb, we collaborated on many changes and improvements to the old compliance audit form. The new form includes all new 2007 ASTM Standard and 2008 CPSI Handbook citation references. The form layout was changed for each individual section but the focus is still on the process of identifying all non-compliant circumstances. A major change in the assessment procedure is to implement the hazard risk assessment process as identified in the NRPA Certified Playground Safety Inspectors Course. The results of this assessment process will require the inspector to assign a risk assessment Safety Concern Priority Number from 1 to 5 with 1 being the highest priority for corrective action to 5 which identifies all items as compliant. It is then the inspector's and/or playground owner's responsibility to develop a plan of action necessary to address these deficiencies in priority order. This new form also has a section that begins the process of evaluating the entire playground for compliance to the minimum requirements for accessibility in accordance with the July 2004 ADA/ABA Accessibility Guidelines. It does not attempt to qualify a playground as ADA compliant but rather give a general assessment of many of the common barriers found in outdoor play areas today.
There is a new High Frequency Inspection Form which will help owner/operators track maintenance and inspection manpower for all types of surfaces. Today's playground environment often includes many different types of surfacing systems in one site. Having this information can assist owners evaluate these surface systems over time and help them make better purchasing decisions as well as help with annual budgeting of man-hours and other resources necessary to maintain their playground safety surfacing in accordance with the ASTM F1487 standard. Probably the most important and valuable aspect of the PSINA, 4th Edition is the companion CD included inside each book. The CD includes all playground safety related forms and inspections in Adobe format with fill-in fields for recording your actions. These forms can be then copied and stored for further use and reused over and over as needed. The user must have Adobe Acrobat Reader 7.0 or higher to read and use these forms. Adobe Reader can be downloaded free from the Adobe Web Site. The user can create customized inspection forms and save them in specific site history electronic files plus many other things you may need in the future to improve your safety program if you have Adobe Suite Software. As of the 2009 all NRPA CPSI Course participants receive a free CD of all the Adobe PDF forms and inspections. The NRPA no longer be providing free copies of the Playground Safety Is No Accident. Â Additional CD's can be purchased on this Web Site.
The National Recreation and Park Association recommends purchase of Playground Safety Is No Accident, Fourth Edition before using the CD electronic forms because the book includes explanations for the use of the forms and other explanations for beginners who have less knowledge, skill, and experience with the forms used in previous editions of this book.
Improvements to the book include a glossary of terms to help less experienced playground safety inspectors understand many of the terms so important to the task at hand.
There are two new sections thanks to the Park District Risk Management Association of Illinois. The first new section is from Monty Christiansen; my friend and fellow NPSI Co-Founder, and principle author for PDRMA's manuscript, Maintaining Child's Play, which is the major resource document for their newly developed playground maintenance course. This section explains the maintenance needs assessment process. Playground inspections require a consistent, systematic and comprehensive approach to be effective. This section outlines the process to assist the inspector in applying an effective and efficient inspection and maintenance program.
Even with effective playground inspections and timely ongoing maintenance there will be problems. The action taken when a play component fails or replacement of a damaged component becomes equally important. To assist with this dilemma the next new section in the book deals with the various options for taking play equipment out of service. This section was originally written by Steve Plumb, another primary contributor to PDRMA's Maintaining Child's Play manuscript. This section is intended to provide a wide array of options to responsibly take play equipment out of service. The options consider taking a piece of play equipment or an entire playground out of service for a very short period of time to considering options when more comprehensive repairs are required over an extended period of time. The goal of this section is to protect the users from injury and the equipment from further damage until the playground can be brought back into compliance.
PSINA, Fourth Edition has an expanded Appendix providing examples of others inspection forms. David Spease (California), and fellow NPSI Board Member, has given his permission for the inclusion of his inspection forms as a model for those who must comply with the State of California playground safety legislation. Â It also includes pertinent information on this California Legislation. There is a sample audit form from Peggy Payne, (co-owner of Playground Medic of New York) and last, there is a complete site history file for a new playground installed in 2008 by the Wheaton, Illinois Park District's Parks and Planning Department.
---
We are reminded constantly by emergency room statistics how important playground safety is for children. In the current state of our nation, some playgrounds are being removed without replacement because they are weathered, and funding for replacement can be scarce. Play in general is endangered with recess reduced or alleviated, and some elementary schools across the nation are actually being built with no plans for a playground for various reasons. Play has more impact on society than most realize.
As editor of Playground Magazine, and a mother of three active sons, I have become increasingly aware of the challenges faced with designing, installing and maintaining safe play spaces for children. There are solutions to combat these challenges, and little by little we can make a big difference--especially concerning the ripple effect of proper or improper playground maintenance.
Owners and operators of playgrounds play a pivotal role in, and share a great responsibility for making sure playgrounds are not only safe, but fun, challenging, clean, attractive, and that place where children can learn and grow no matter their physical ability.
Playground Safety is No Accident is a very useful resource, providing those responsible for design, installation and maintenance information needed to ensure proper care and maintenance of playgrounds.
The impact of development that takes place on the playground should remind us that it behooves us all to make sure we are providing the best possible play environment to foster safe and healthy development for children--physically, socially, intellectually and emotionally. It all starts with a playground, experience that later shapes our society.
Shannon Amy Stockwell
Editor, Playground Magazine
2008 Apex Award for Publication Excellence Recipient
Playground Safety Is No Accident CD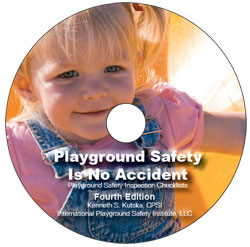 Everyone is looking for an easier way to conduct playground inspections and IPSI, LLC does not want you to waste time reinventing the wheel. Because the users of Playground Safety Is No Accident have been continuously asking for electronic versions of the various forms found in the first versions of Playground Safety Is No Accident, we have included a CD with the various forms detailed in the manual. The CD is in an easy fill-in format so you can store all your records electronically. Tens of thousands of people have been using this manual since its first printing. This revision provides an up to date look at what owners and operators of public playgrounds should be considering when trying to comply with their responsibilities as spelled out in both the current ASTM F1487 standard and CPSC Handbook.
The user of the CD forms must have Adobe Acrobat Reader software 7.0 or higher on their computer. They can then use all forms by filling in data, printing hard copies of all blank or completed forms and then reset the electronic form for further use. If the user downloads a free PDF driver from http://www.primopdf.com they can save the filled out form on their computer in a specific file but this saved file cannot be edited electronically at a later date. If the user has the full Adobe Acrobat Suite software they can edit, print, save filed out forms electronically and customize the forms as needed.
Playground Safety Inspector Worksheets provided on the PSINA, 4th Edition CD
The Playground Audit and Inspection Forms provided by IPSI, LLC are intended for voluntary use of anyone purchasing a copy of Playground Safety Is No Accident and performing and documenting playground equipment inspections. IPSI, LLC recommends that anyone using the forms to document playground inspections and audits should first review the current Playground Safety Is No Accident, Fourth Edition text for information about how utilize these forms and establish and appropriately set up a maintenance and inspection process and procedure. Effort has been made to ensure the appropriateness of the forms in relation to auditing best practices for inspecting playground equipment. However, Standards and Guidelines change from time to time and the final determination of the appropriate inspection practices and safety of playground equipment must be determined on a case-by-case basis. In addition, all manufacturer requirements must be strictly followed. The authors do not endorse or enforce use of these forms. No certification or "seal of approval" is granted or may be inferred by the IPSI, LLC the authors, its officers, agents, or employees.
IPSI, LLC recommends the inspector purchase and read the new Playground Safety Is No Accident, Fourth Edition prior to using these new CD forms. The following forms are included on this CD;
Playground Safety Compliance Audit Form
Site History Checklist
Itemized List of Play Components Form
Inspection Frequency Evaluation Form
Inspection Frequency Summary Form for all Playgrounds
Low Frequency Site Plan Playground Inspection Short Form (Up to 13 Play Components)
Low Frequency Site Plan Playground Inspection Long Form (14 or more Play Components)
Low Frequency Playground Matrix Inspection Short Form (Less than 6 Play Components)
Low Frequency Playground Matrix Inspection Long Form (6 or more Play Components)
High Frequency Inspection Form
High Frequency Inspection Form with Surfacing Maintenance Data
Training Roster
Accident/Incident Form